What is Actually The Best Vietnamese Coffee in Hanoi?
Updated: 10/8/2019 | 6:47:57 AM
🔺Hanoi arts, food, culture: local Secrets🔺
💢There are thousands of traditional and fashionable Coffee places in Hanoi with lots of choices such as black coffee, Vietnamese iced coffee, sweet Vietnamese coffee with condensed milk, coconut coffee, yogurt coffee or the iconic egg coffee...etc. So you won't go short on caffeine here; but give these a try if you're in the right area. So, to enjoy and decide what the best Vietnamese Coffee in Hanoi is, We recommend you The Top 6 Coffee Spots in Hanoi as follows:
1.Cafe Lam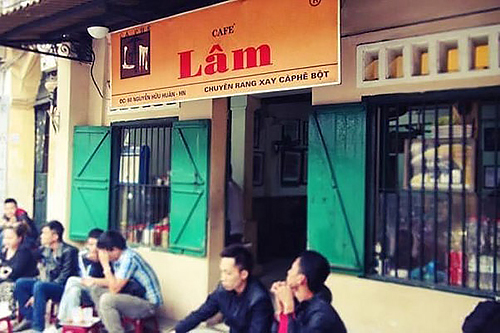 Located near the city center, the famous Café Lam is one of the oldest cafes in Hanoi. The charming atmosphere of this old cafe is complemented by antique pieces, art collections and rare books tucked away at every corner. The unique environment transports customers back in time, whilst they enjoy great Vietnamese-style hot and ice coffee, with thick condensed milk.
🔴Address: 60 Nguyen Huu Huan, Hoan Kiem, Hanoi.
2.Giang Café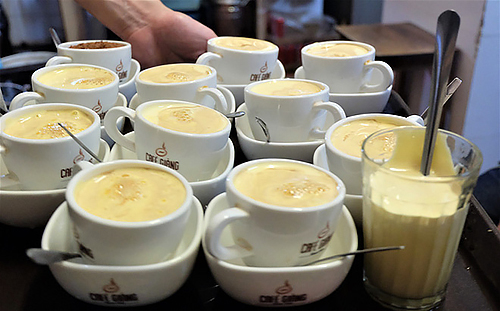 Giang Café is a charming place hidden in the narrow streets of Hanoi's Old city. The architectural style of the place reflects an auspicious blend of Western and Asian influences. The cafe is famous for its egg coffee, surprisingly delicious and resembling a tiramisu in taste. This is a great place to relax, enjoy some music and have a cup of coffee or, alternatively, a hot egg chocolate.
🔴Address: ‪ 39 Nguyen Huu Huan, Hoan Kiem, Hanoi.
3.Oriberry Coffee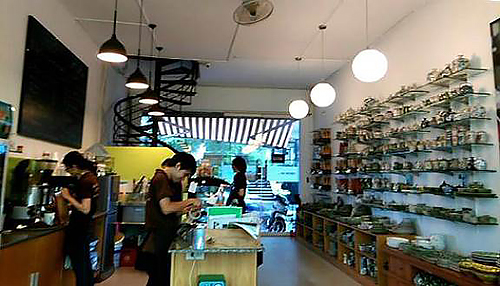 Located near St.Joseph Cathedral, Oriberry Coffee is more of a shop than a café. However, here customers can brew their own coffee in the coffee machine and then sit outside the shop to enjoy it. Oriberry Coffee use some of the best coffee beans grown by local coffee bean farmers.
🔴Address : 36 Au Trieu, Old Quarter (near the Saint Joseph Cathedral), Hoan Kiem , Hanoi.
4.Cộng Caphe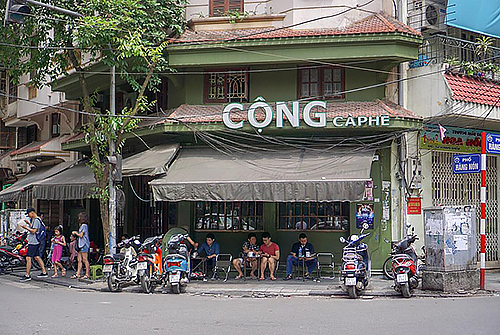 Actually, This brand ownes a series of more than 50 coffee shops around Hanoi. What we recommend you here is Cộng Caphe - 54 Hang Dieu in the Old Quarter. The perfect seat is on the 2nd floor where you can enjoy and watching Hanoian lifestyle. in Here they also famous for white coffee but the unique and awesome one is Coconut coffee.
🔴Address: 54 Hang Dieu - Old Quarter, Hoan Kiem, Hanoi.
5.Cafe Vuon Pho Co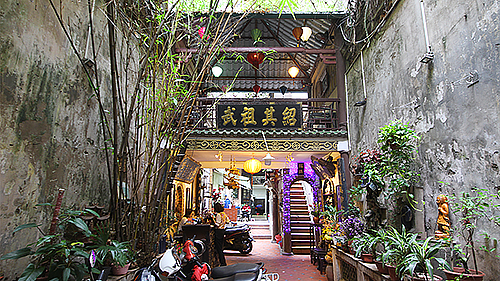 There's something special about walking into a normal looking silk store, then walking further with still no sign of a coffee shop then walking upstairs to a coffee shop that suddenly opens up to have this stunning view over Hoan Kiem Lake. in Here they also famous for excellent egg coffee.
🔴Address: 11 Hang Gai, Hoan Kiem, Hanoi.
6.Cafe Tho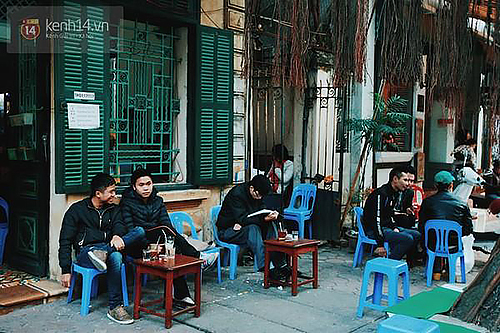 Trieu Viet Vuong Street known as 'Coffee Street', this stretch of Hanoi's historic Hai Ba Trung District might contain more cafes per block than anywhere else in Vietnam, ranging from family-run shops to more fashionable places popular with teenagers. One of the tops is Cafe Tho, which has been here for three decades, Hanoian often favourite a powerful cup of Vietnamese hot or iced coffee that will draws consistent crowds.
🔴Address: 117 Trieu Viet Vuong, Hai Ba Trung, Hanoi
⭕We hope you will enjoy these spots as much as Hanoian favourite, and you can share your personal idea & love for Hanoi coffee to us or other Foreigners in Hanoi :).
💈A Short Summary About Us💈
📋HanoiStay Housing is a dedicated team to helping foreigners, newcomers and expatriates in Hanoi in finding their new dream home.
We specializes in Real estate Rental and purchasing needs, including apartments, houses, villas and commercial office space within Hanoi and the surrounding area. Our licensed agents are always willing to help you. Our mission statement is to provide superior living experiences to all our customer with the highest level of customer service, value and quality housing‼️
🌎Website: https://www.hanoistay.com.vn/
🌎Website: https://servicedapartmentsinhanoi.com/
📧 Email: [email protected]
☎️Hotline: 0896 119 299/ 0904 333 498
💖 Thank you for your interest in our housing service!
☀️HanoiStay Housing☀️The Leading Real Estate Agent in Hanoi, Vietnam☀️.
Related Articles